North Carolina State Veterans Home - Black Mountain
62 Lake Eden Road, Black Mountain, NC 28711
tel: 828-257-6800 fax: 828-257-6860
Request More Information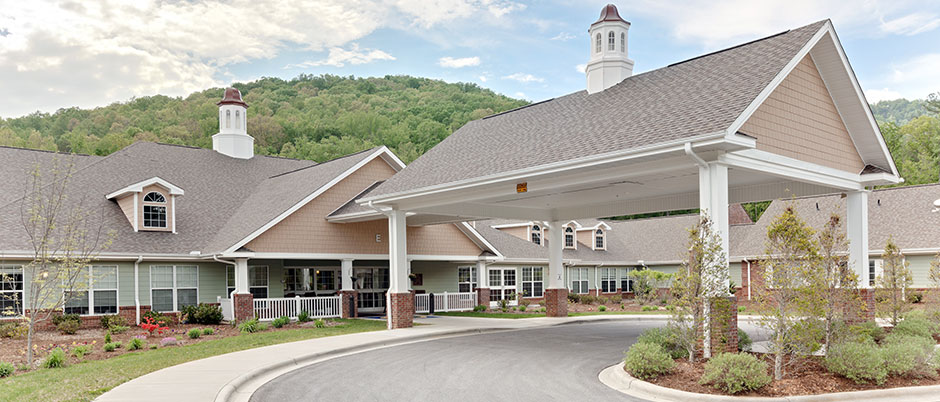 North Carolina State Veterans Home - Black Mountain
It is an honor and privilege to provide high-quality care to our nation's veterans, each and every day. As a member of the PruittHealth family of providers, we strive to deliver the same level of integrity and commitment that our veterans experienced and demonstrated while in service. We are certified by the United States Department of Veterans Affairs, and we work in conjunction with the Department of Veterans Services to provide comprehensive, 24-hour care to aged and infirm veterans. Our services are provided under spacious accomodations in accordance with quality forms of care, such as skilled nursing, medical, dental, psychological, and therapeutic needs.
PruittHealth is honored to partner with the North Carolina Department of Military and Veterans Affairs to provide our veterans with the comfort and high-quality care they deserve.
Medically Complex care including IV Therapy and Tracheotomy Care
Wound Care/Skin Integrity Services
Pain Management
Religious Services
Hospice Care
Eco-friendly Geo-thermal Heating and Cooling
Telephone Access
Meditation Room
Religious Services
Veterans Service Officer to Assist Veterans and Families in applying for VA Benefits
Licensed by the State of North Carolina and approved for Medicare,  Medicaid and Third-party Insurance
Volunteers and Group Involvement in Community
Special Programs Throughout the Year Honoring Veterans
All Private Rooms Designed in Neighborhoods with Homelike Atmosphere

24-Hour Registered Nurses

Full Time Licensed Dietician

Aquatic Therapy

Fine Dining

Short Term Rehabilitation

Complete team of therapists in including physical, occupation and speech therapy

Secure Memory Support Unit

Bariatric Rooms

Transportation for Appointments and Activities

Large Courtyards with Scenic Mountain Views

Activities led by Certified Therapeutic Recreation Specialist

Cable Television

Private Dining Room and Parlors for Family Visits

Masters Level Social Worker​
​All patients are admitted, assigned a room and treated without regard to race, color, creed, age, handicap, national origin or payment classification. We will attempt to meet any special cultural or psychosocial requirements.
Upon admission, please bring the following with you:
 identification card(s)

 insurance cards and policies

Military discharge form DD214 or equivalent
 Medicare or Medicaid cards​

 living will, power of attorney or durable power of attorney

 health surrogate appointment

 copy of an organ donation request card​​

​During your stay, only a few personal items are needed, such as deodorant, toothbrush, shampoo, robe and slippers. Glasses or dentures must be in appropriately labeled storage containers. No electric appliances may be brought into the facility without prior approval from administration. We strongly suggest you leave valuables at home. The facility is not responsible for valuables or money kept in your room.​​